Keynote
World of Ubiquitous Computing and Artificial Intelligence
We live in a world dominated by anytime anywhere computing. Another dominant trend and a reality that has engulfed the industry is 'Artificial Intelligence' and its impact. Industry is at the cusp of innovation intended to last a decade or two. At this juncture, Do you want to stay relevant for the next decade ? Do you want to solve some of the industries endearing problems ? Do you want to be working on the cutting edge tech ? I am sure it's a Yes to all 3 Qs. Join this session as we explore the possibilities of OSS and Azure in enabling you to build solution powered by Intelligent Platform and an Intelligent Edge.
Date: 11th October 2018
Time: 10:15 to 11:00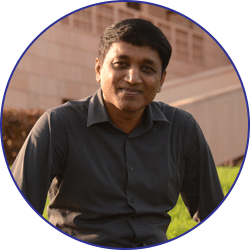 Sandeep Alur has over 20 years of industry experience providing technology and architectural guidance. His experience ranges from dotcom days to the distributed/cloud computing to the next generation intelligent computing era. He has architected solutions across technology/platform landscapes and is a stern believer of his own philosophy, which says "Enterprise architecture is an evolution and it grows with innovation". From an innovation standpoint, he believes that the next big leap is in 'Data Science', and 'AI' will elevate Customer Experience to greater heights. At Microsoft, he leads 'Technology Solution Charter' for Independent Software Vendors (ISVs) India. He has vast experience of working with ISVs and startups in the country with Cloud being a primary technology charter. With the current decade dominated by explosion of devices and services, he considers 'Cloud platform' to be a great host for businesses to emerge and scale.