Let's Simplify Self-Hosting: Its not Impossible
Let's Simplify Self-Hosting: Its not Impossible
The main objective of the workshop is to encourage individuals to choose self-hosting for services that run their lives. It will also demonstrate multiple options that can help begin self-hosting and simply the process of self-hosting


Speaker/Instructor:
Abhas Abhinav, Hacker, entrepreneur and free software activist
Date: 29th September 2022
Time: 03:15 PM to 06:30 PM
Venue: Workshop Room 1, NIMHANS Convention Centre, Bangalore.
Fee: Rs. 2999/- (Limited seats available)
Who can attend this workshop?
– Those who want to get experience with system-administration by
choosing self-hosting
– Those who want to exit proprietary / cloud services and take back
control of their data and software
– Those who want to start with self-hosting but are afraid to start!
What all will be covered in the workshop
– A discussion on why self-hosting matters
– What is the challenge with self-hosting? Why is this topic of great
importance today?
– Demonstration of three self-hosting options:
– OpenWRT
– Debian
– Specialised distributions like Yunohost and LibreServer
– Discussion on where to self-host
– at home
– on a VM
– at a data center
– Hardware choices
– desktops
– Single-board Computers
– Routers
– Laptops
– Discussion around self-hosting challenges and misconceptions
Benefits/Takeaways of this workshop for the attendees
Once they can see that self-hosting isn't tough, that there are many
solutions available (based on how much we want to be involved) and one
can build confidence by getting started, I am hopeful that after the
workshop many participants will be ready to get started.
I would encourage them to interact with each other as a community so
that we don't give up just because we don't get timely help or feel
alone or get stuck.
Prerequisites to attend the workshop:
IMPORTANT: This is a BYOD workshop. Attendees need to bring their own Laptop to try the hands-on instructions.
Abhas is a hacker, entrepreneur and free software activist.
As the founder of DeepRoot GNU/Linux, an twenty-two-year-old Free Software Business that provides support, services and solutions for Free Software deployments. DeepRoot builds mail servers and clusters, provides hosting & support for a variety of Free Software tools and helps organisations of all sizes choose self-hosting for their infrastructure in general.
Abhas also leads a hardware venture called Mostly Harmless, where he experiments with and builds Libre and Liberated Hardware (like hackable mechanical keyboards, liberated computers, home automation solutions and more. The goal is to build and sell hardware put owners in control of their lives by enabling them to run free/libre software on more hardware than usually possible.
Mostly Harmless operates the LibreTech.Shop – India's first store for hackable and ethical products that offer convenience.
Abhas is a member of the the Free Software Foundation, India working group and has been a participant in the community in India for many years. He advises colleges, govt / defence organisations and start-ups on using, building and adopting free software as a "way of life".
He shares his thoughts at abhas.io.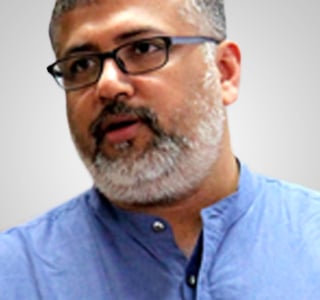 Abhas Abhinav, Hacker, entrepreneur and free software activist