Keynote
Open Source as a Catalyst for Innovation and Transformation
Open Source is now mainstream. It is considered an essential building block of software apps and services. Cost, interoperability and re-usability are indeed the main factors driving towards Open Source. But, those are just the obvious ones, while community, licensing, being on the cutting edge are the key differentiators. Open Source technologies help organizations and individuals alike, to innovate by building on top of what is already at the cutting edge. Transformation involves adopting the latest systems, methods and technologies to stay relevant in the market. Open Source projects provide the best selection of these along with the power of community that serves as a guide while you adopt them. Community also serves as a launch pad for your own contributions, enabling you to reach a much wider audience. Contributing to Open Source is as important as consuming it. You should actively contribute to Open Source to help the whole ecosystem to thrive and be self-sustainable.
Date: 12th October 2018
Time: 9:30 to 10:15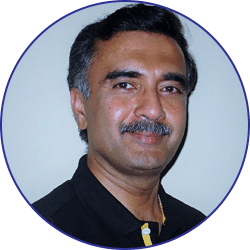 Pradeep is Program Director for Eclipse Strategy and Development in IBM. He represents IBM as a Director on Eclipse Foundation Board of Directors. Prior to this he was leading the Rational Software Development organization in IBM India. He has been in IBM since 1995 via Rational Software acquisition and has an overall industry experience of 25 years in development of Software Engineering Tools. He setup the first Eclipse open source development lab east of Europe, in Bangalore in 2008. In the course his career at Rational and IBM, he has built and led various product development teams, including products in the IBM Rational Collaborative Life-cycle Management (CLM) solution built on IBM Rational Jazz platform. He is a regular speaker in Conferences on Agile, DevOps, Open Source and Software Engineering. He is also actively involved in organizing various conferences as a member of the program committee. Pradeep has a Masters in Computer Science & Engineering from IIT Chennai, India.