What Every Techie Must Know About Design-Thinking and UX Design
What Every Techie Must Know About Design-Thinking and UX Design
From a small startup app to an enterprise software, success is defined through design-led engineering.In a competitive and crowded marketplace, no amount of world-class engineering alone helps to define success. This workshop hits the ground running with the two super-ninja powers every techie needs: Design-Thinking. And UX Design. Stuff, until a few years ago, the IT industry mistakenly thought only designers need. Today, you and everyone in IT need these for their products, and need these urgently for their career path. You'll abe able to wrap your heads around how to think in Design, speed up your workflows to go-to-market, and learn what it takes to author world-class design from across your team.
Speaker/Instructor:
Niyam Bhushan, Founder, DesignRev.in
Time: 03:30 PM to 06:00 PM
Venue: Workshop Room 1, NIMHANS Convention Centre, Bangalore.
Fee: Rs. 3999/- (Limited seats available)
Who can attend this workshop?
Techies. Techies. Techies. Product Heads. Product Teams. CTO. Co-Founders. Business-Domain specialists who work with engineering to build products.
Note: If you play the guitar, drop by to say Hi
What all will be covered in the workshop
How Design-Thinking is being used to make products more successful. In India.
How to quickly get started with Design-Thinking with your next engineering product.
Top tools, techniques, and resources for Design-Thinking. Especially open-source resources.
How to Surround Yourself with Excellence in UX Design. And why.
Nurturing a mindset for UX Design to complement engineering.
Quickly build a low-res prototype
Benefits/Takeaways of this workshop for the attendees
Thanks to Design-Thinking, they will immediately have x-ray vision to see exactly what to fix in their existing product and offerings, to make them more successful.
A new ability of 'creative confidence' to solve problems that seemed overwhelming.
New workflows that bring more structure and organization, and compresses time to go-to-market. In some cases, by up to one-third.
Adoption of a few crucial tools that open-source, that help in bringing licensing costs down while forging industry standards in your workflow.
Gain insights through '2.5X DesignThinking' on how to outsmart competitors and become more innovative in business.
How to build world-class products and services, and for some, design breakthroughs that may help them open new markets, especially non-English markets.
Multi-disciplinary creative professional with over 34 years of vast and diverse experience in Design and Design-Thinking. Driven with the vision and passion to transform India into the super-hub of Design in the world. Founder of DesignRev.in with this vision. Conducted over 44 Design workshops across 8 locations in India within 5 years. Design Jury member with NASSCOM Design4India 2018 and 2019 and industry expert on Design for various NASSCOM initiatives. Worked with top global, international, and prestigious clients in design of enterprise software and large-scale projects. Helped and mentored over 200 startups. Consulted in over 20 industry verticals including Telecom, Fintech, IT, Media, Publishing, Travel, Health, Parenting, Education, Ecology, and more. Parallelly worked for 14 years across various Linux, Free & Open Source Software, and Creative Commons initiatives across India, including being the founder-member of ILUG-D, running freed.in and helping set up a few other Linux User Groups in India.  Combine deep and ongoing research with advanced skills and techniques, all for the creative aha! moment.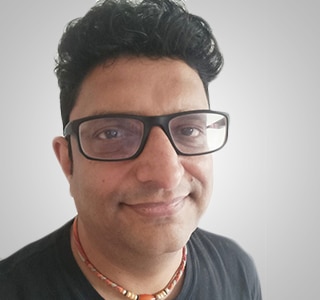 Niyam Bhushan
Founder, DesignRev.in