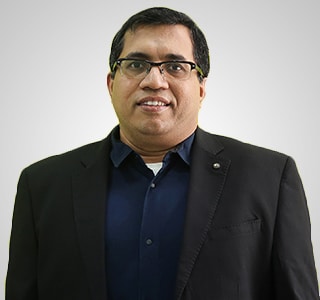 Narayan Mahadevan
Designation: Founder
Company: BridgeLabz Solution
Topic: APPLYING MACHINE LEARNING TO YOUR PROJECT: WHEN AND HOW
Track: Workshop
Date and Time: 18th October 2019 03:30 PM to 06:00 PM
Hall: 4
About Speaker
A serial entrepreneur with 25 years of experience in Technology Leadership, Narayan Mahadevan is the Founder of IP driven Incubation Lab, BridgeLabz. An AWS recognised company, BridgeLabz focuses on increasing employability and nurturing ideas as well as talents in the Emerging technologies domain. Having completed his B.E. in Mechanical Engineering from Maharashtra Institute of Technology, Narayan went on to pursue his graduate studies in Mechanical Engineering and Software Engineering from Kansas State University.
Through his career, Narayan has been able to explore his passion for technology in various spheres and has utilised his skills to develop robust and diversified technology-based products and solutions. He worked with Sprint and Verizon, as a Software Engineer and Architect/Principle Engineer respectively. He served as CTO at Hurix Systems, a Digital Content Solution provider based in Mumbai. He also served as CTO, Mauj Mobile, a global media company with one of the largest independent app marketplaces in the world. He was a Creator at XPressOn Technologies, developing an extensive photo editing mobile app. Narayan served as Director of EFI, building Print Applications from scratch for the company in India. He took this specialisation in professional Print Applications forward, and founded ZESTA Technology Group, where he served as CTO as well.
About Talk
The workshop will make attendees understand how companies can leverage the power of ML to drive better customer engagement and better business decisions. It will also help you apply ML at the right time and place and gain information about tools (ML) to serve your customers need.