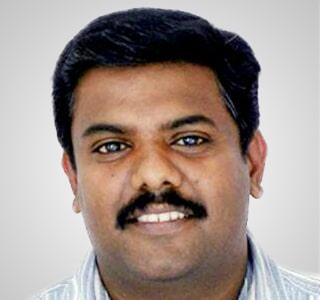 Jeeva Chelladhurai
Designation: Founder
Company: Comorin Consulting Services
Topic: BUILDING A CONVERSATIONAL CHATBOT WITH RASA STACK AND PYTHON
Track: Workshop
Date and Time: 18th October 2019 03:30 PM to 06:30 PM
Hall: 1
About Speaker
Founder & CEO of Comorin Consulting Services, Technical Author, Trainer and Speaker with over 20 years of experience in Research and Development. Currently he and his team provides Consulting and Engineering Services on AI Chatbot, Machine Learning, Blockchain, Microservice Architecture, Full stack Development, DevOps, and etc.
Jeeva has delivered corporate training on DevOps, Jenkins, Docker, Kubernetes, Ansible, GIT, Blockchain, Shell Scripting, Groovy, Python, Machine Learning, Agile, etc at renowned organizations like IBM, Intuit, Oracle, Avaya, CISCO, MindTeck – USA, etc. He is the organizer of Jenkins Area, Open Source Meetup, Ansible and Ethereum meetups in Bangalore. Jeeva is a prominent technical speaker, who has authored many technical books on Docker and advocates DevSecOps.
He holds a Master's Degree in Computer Science from MS University, India and a PG Diploma in Project Management from Boston University, USA.
About Talk
Today's business and market requirements are forcing organizations to reinvent themselves as Digital organizations. In this digital journey, organizations are finding ways and means to automate their mundane and repetitive tasks using AI and AI- powered chatbots. Besides, the traditional interface is being replaced by a conversational interface using chatbots (auditory and/or textual). In this session, we will demonstrate how to build a chatbot using an Open Source chat framework called Rasa. Since Rasa is an Open Source framework, you have full control over the data compared to the chatbot solution hosted by other service providers