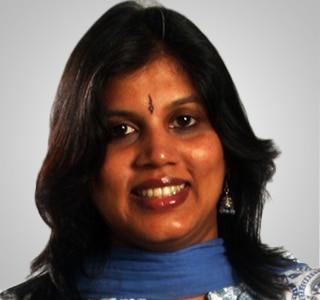 Charu Srinivasan
Designation: Partner Director of Engineering, Azure Compute, Cloud and AI Division
Company: Microsoft Corporation India
Topic:
Track: Keynote
Date and Time: 17th October 2019 09:30 AM to 10:15 AM
Hall: 1
About Speaker
Charu Srinivasan is a Partner Director of Engineering in the Cloud & AI Division at the Microsoft India Development Center. Over the span of two decades, she has worked on several system technology areas such as databases, virtualization, disaster recovery and cloud computing. She currently provides the technical vision and leadership to Azure Compute Engineering organization at Microsoft in her Director of Engineering role. Charu splits her focus between people management responsibilities involving recruiting new talent, mentoring and growing people and developing effective engineering processes, and technical issues including developing and articulating long-term technical vision and exploring new technology directions. Charu holds a M.S degree in Computer Science from the University of California, Santa Barbara and a B. Tech degree in Computer Science from College of Engineering, Guindy (Anna University). She is an active leader in the Diversity and Inclusion charter at Microsoft and help found the Microsoft Women in Software Engineering (WISE) Mentoring Program that mentors undergraduate women in C.S to inspire and prepare them for careers in technology. She is a board member on the Confederation of Indian Industry – Confederation of Indian Industry CII's National Committee on Technology and helped create the founding vision for CII's Centre of Excellence on Digital Transformation. Charu recently joined Social Venture Partners, Hyderabad Chapter as Partner. SVP provides investment funding to non-profit organizations to increase their social and environmental impact. Charu helped found the Asha For Education, Seattle Chapter - a non-profit organization that is dedicated to bringing about socio-economic change in India primarily through education
About Talk
Are you curious to learn how the market is embracing Microsoft's open source transformation Microsoft has adopted a three-pronged approach - Innovate, Contribute and Enable to fuel this transformation. Come learn about Microsoft's key open source innovations, how Microsoft contributes code and thought leadership to open source communities, and how Azure enables every developer and organization to more easily adopt open source in the cloud, without having to be an expert. Microsoft engineers have been contributed significantly to open source projects and demonstrating what Satya Nadella said about Microsoft being "all in on open source".