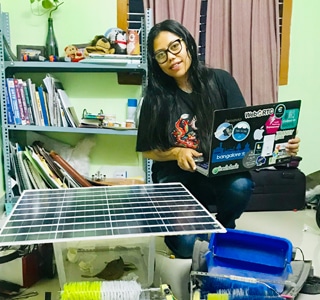 Altanai Bisht
Designation: VoIP and media streaming engineer
Company:
Topic: Ramudroid: An Open Source Powered Robot
Track: Open Source and You
Date and Time: 17th October 2019 01:30 PM to 01:40 PM
Hall: 1
About Speaker
Altanai is a domain expert on Webrtc and real-time communication protocols. She is and active freelancer and ardent contributor to Open source community. Her projects like tangoFX and Webrtcdevelopment. Author of " WebRTC Integrator's Guide" by Packt Publishing . Frequent tech blogger, authored an IEEE conference paper on Hybrid micro Grid and renewable energy.
About Talk
Ramudroid, inspired by Bharat Swachata Abhiyaan, was invented ( v1 in 2015) to clean roads and gullies(lanes) for a cleaner environment.
Talk and demo includes the design and operation, being powered by solar energy, using camera's media stream to identify target garbage type and 3 brush design to lift up small objects like plastic cups, wrappers, leaves etc. Also discusses detecting obstruction to reroute itself and act autonomously. Last we also discuss how we can analyse data on garbage spotted and collected for segregation and spotting defaulter people or neighbourhoods who litter regularly.