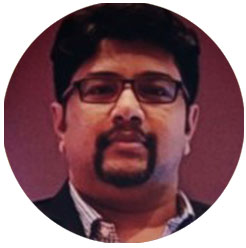 ISV Technology Lead | RedHat
Optimize Carbon Footprint of your code and containers - The New Sustainability KRA for Developers
Join Vinay Rajagopal to know – How can you translate the idea of sustainability into reality? How a 3 staged approach can help developers and also the Operations & Platform teams build a realistic sustainability computing from code to containers using opensource technologies across hybrid cloud, platform and applications. Know your responsible KRA in the new era of green software & green ops. Build a Greener World and play your part!
20 Oct 2023 | Time: 04:45-05:15
Vinay Rajagopal is ISV Technology Lead Architect for Partner Ecosytem at RedHat. As a Technology lead, he is responsible for helping Independent Software Vendors (ISVs) including IOT, AI/ML and Emerging technologies based partners to build products on RedHat stack, accelerate containerization and enabling them on go-to-market strategy. He brings over 20+ years app dev and platform experience. He is a BlockBolt certified product management professional. Has completed Design Thinking from MIT Emeritus, Business Management from LSE (London School of Economics and Political Science), Leadership and Strategy from JWMI (Jack Welch Management Institute). He holds several granted patents and published files. An open source enthusiast who is currently pursuing Masters in AI from Reva University.