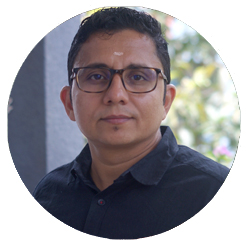 AI Strategist / Architect, Thoughtworks Technologies
The Rise of the Open Source LLM's and factors for Enterprise Success:
The Rise of the Open Source LLM's and factors for Enterprise Success: In the world of natural language processing for text, image, audio and video, LLM's have emerged as the adaptable tech for the enterprises. Most of the enterprises consider LLM's as a de-facto, for task enablement and productivity accelerator. With enterprises adapting this tech, there is a need for democratisation in this space. Open source LLM's plays a major role to bring excitement to this democratisation journey.
In this session, we expect to excite the audience by sharing our thoughts and experiences about open sourced LLM's landscape, when and why you should consider open source LLM's, what it needs to start the LLM's journey for a small/large enterprises, best practices to be considered in the implementation.Outcomes of this talk:a) Landscape view of the open-source LLM ecosystemb) "Canvas for enterprises" to apply their context and make decisions about implementing open source LLM'sc) Prep for the LLM journey with respect to people, infra and stakeholdersd) Learnings and crucial factors to consider while implementing this journey for enterprises.
19 Oct 2023 | Time: 04:00-04:30
Sathyan Sethumadhavan is an AI/ML Architect and engineering leader at Thoughtworks, a global software consultancy that helps clients solve complex business problems with technology. He has close to two decades of experience in deep expertise includes assessing enterprises for AI readiness, building AI/ML CoE for large scale enterprises, building and leading data engineering/data science teams.

He is passionate about open source technologies and has led several large scale AI platform implementations, building AI enabled digital public goods and transformations for India's public sector, on an on-prem and open source stack setup. His current interest is in the area of open source LLM's and drive LLM adoption across large enterprieses.His thought leadership is in AI operationalization subjects and he advises companies on increasing ROI's by means of AI engineering frameworks.