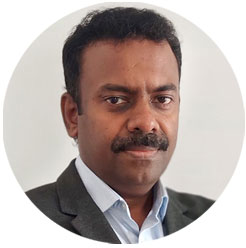 Founder, CEO & Director | Caze Labs Private Limited
Let us do Kubernetes Monitoring along with AI-powered Observability!
Are you interested in monitoring? Are you eager to deploy a Kubernetes cluster and want to start k8s monitoring? Want to understand the difference between monitoring and observability? You want to know more about Kubernetes metrics, how to get this data to Prometheus and in turn visualize it through Grafana? Then this workshop is for you!

We will have some bonus tips on some deeper aspects of k8s monitoring, customization of visualization and open telemetry and also potential next steps you can take!

Finally, pointers on the state of cloud-native observability, AI/ML to get deeper and faster insights, and how it can help your career or business!
20 Oct 2023 | Time: 11:30-02:00
Sanil has over two decades of product development expertise in Open Source, Cloud, Hybrid Data Management, Edge Computing, Blockchain, Real-time Embedded Systems, ARM Ecosystem, and Linux. He founded Caze Labs Private Limited in May 2023, to build innovative solutions based on open source and technology (Observability, Cloud, AI, Cyber Security).

He is also the TOC Co-Chair at SODA Foundation, leading its initiatives on hybrid cloud data management. He incubated open-source projects and has patents/research papers on his credit. He is an industry-awarded technologist for his open-source, technology and community contributions. Also contributing through key roles at CNCF, SODA, IEEE, CCICI and various open source projects(TOC, Program Committee, Governing Board, Maintainer). Currently, he is also pursuing a PhD in open source and observability. He delivered talks and keynotes at international conferences and is also part of the ACM Eminent Speaker panel.

He believes that open source is a great avenue for young developers to global technology research. He founded 123Life and leading social support initiatives through this citizen volunteer group