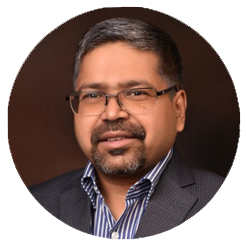 Building a community - Then and Now
This talk will be a walk down memory lane and tell the story behind the evolution of the Bangalore Linux Users Group and the broader Indian FOSS community. It will help you learn about the history of the FOSS community and how it was built, especially in Bengaluru and India. The session will conclude with some tips for building a community.
20 Oct 2023 | Time: 01:15-01:30 PM
Dr. Sachin Garg is a hands-on technology leader with 25+ years of varied academic and industry experience spanning domains and technologies: FOSS, Unix/Linux, Cloud, Big Data etc. A PhD in Public Policy from the Schar School of Policy & Government, George Mason University, USA; ME (CS)(MNNIT, Allahabad) and BE (Electronics) (NIT, Rourkela), he started his career at C-DAC, holding leadership positions at HP, Wipro, and Yahoo and has been involved in all aspects of the software development lifecycle. A FOSS enthusiast and evangelist, Sachin has been one of the earliest users of Linux in India since 1995 (while pursuing his Masters) when he setup the Internet server for his college.
He has been active in the Bangalore Linux community and was instrumental in getting Wipro Technologies to sponsor the 2006 edition of FOSS.in. While at Wipro, he developed a strategy for Indian software services to be part of the FOSS ecosystem with a special emphasis on the legal aspects. His interest in the real-life, societal impacts of technology and innovation spurred him to pursue a PhD in Public Policy. He continues to mentor teams and individuals on various aspects of the FOSS ecosystem, especially the policy and legal aspects.