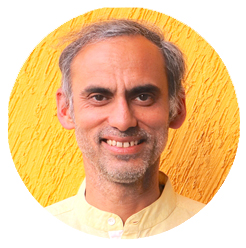 OpenG2P: A building block for Digital Public Infrastructure
OpenG2P is a framework that brings together a suite of digital public goods (DPGs) to enable governments and humanitarian agencies to identify, onboard, and deliver cash and non-cash benefits to people. The attendees will be introduced to the Open Source OpenG2P platform as a building block for the country's digital public infrastructure (DPI).
19 Oct 2023 | Time: 04:15-04:45
With over 28 years of experience in software development, Puneet Joshi currently leads the OpenG2P initiative as the Chief Technology Officer. Over the years, Puneet has garnered hands-on coding experience with state-of-the-art machine learning algorithms for smart surveillance and retail analytics, and played key roles in product definition, process improvement, and roll-out of several products during his career. 
He started his career as a Project Manager at Sasken Communication Technologies and Toshiba. He went on to hold senior positions at companies like Veveo, Apostek Software India Pvt. Ltd., and Outdu Media Tech. As a Principal Architect for MOSIP, Puneet handled deployment architecture and tech decisions, working closely with a large team of developers.