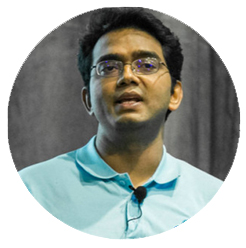 Founder and Principal Trainer, | CloudYuga Technologies Pvt. Ltd.
What Tech Manager needs to know about Kubernetes?
DevOps teams worldwide are prioritizing the improvement of their cloud development and deployment processes. The traditional deploy-and-test cycles on public clouds can be slow and monotonous, causing developers to encounter frequent idle periods during testing and debugging. 
Additionally, the rise in popularity of Infrastructure-as-Code tools like Terraform or Pulumi highlights the importance of efficient testing for automated infrastructure deployments. Deploying complex stacks with extensive resources, such as Kubernetes clusters or Database engines for development & testing can take 15 minutes or longer in real cloud environments. 
This workshop will introduce LocalStack — an open-source local cloud stack that emulates over 80+ AWS services entirely on your local machine to start building your cloud & serverless apps. With over 47K+ Stars on Github and 130 million Docker pulls, LocalStack empowers Cloud & DevOps engineers to build their cloud applications reliably without connecting to a real AWS account or environment. 
The workshop will allow the participants to build & deploy their first cloud & serverless app entirely locally without having any AWS account. There are no specific requirements – the only prerequisite is having Python and Docker installed on your local machine.
19 Oct 2023 | Time: 11:45-2:00
Neependra Khare is Founder & Principal Consultant at CloudYuga. He is an CNCF Ambassador & Certified Kubernetes Administrator. He authored many books and self paced courses on Containers and Cloud Technologies. He also runs few meetup groups in Bengaluru.