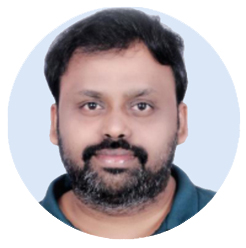 Solutions Architect | Pure Storage
Enabling AI workloads with OpenCL and CUDA
The session will focus on the influence of AI workloads within contemporary datacenters.
Exploring how the substantial parallel processing capabilities of GPUs contribute to the acceleration of AI tasks. 
We will delve into the advantages and disadvantages of OpenCL and CUDA. 
Discuss about advancements in OpenCL that are making significant contributions to the fields of artificial intelligence and high-performance computing. 
By the conclusion, the audience will have fair understanding of AI workload processing and OpenCL.
19 Oct 2023 | Time: 11:45-12:15
Keerthivasan Suresh is a solutions architect at Pure Storage, where he defines and executes solutions related to DevOps and open source integrations. He has 13 years of experience in managing IT infrastructure, developing REST APIs using Python, and implementing Infrastructure as Code (IaC) using Ansible, Terraform, and Puppet. His areas of expertise also include private cloud and Kubernetes. He is passionate about building DevOps solutions and formulating data management strategies that effectively address customer issues.