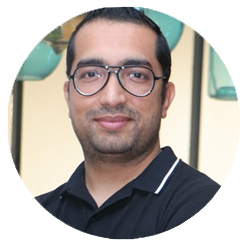 Co-Founder & CTO | Scogo Networks Pvt. Ltd
Transforming the Tech Stack: A Case Study of our Shift from CPanel to Kubernetes
My talk will enable the audience to: 
– Understand the benefits and challenges of transitioning from CPanel to managed servers, serverless architecture, and ultimately to Kubernetes.
-Gain insights into the process and key considerations involved in each step of the journey.
-Evaluate the advantages of serverless architecture and Kubernetes for their own infrastructure needs.
-Learn from my company's experiences and apply the lessons learned to their own migration or infrastructure transformation projects.
-Discover best practices and strategies for successful implementation and adoption of serverless architecture and Kubernetes.
-Empower them to make informed decisions about their infrastructure and leverage the latest technologies to achieve scalability, flexibility, and agility.
In summary, the talk will provide the audience with valuable knowledge and practical insights, equipping them to make informed decisions and effectively navigate their own journey towards modernizing their infrastructure using serverless architecture and Kubernetes.
20 Oct 2023 | Time: 05:30-6:00 PM
Karan Singh is a Co-Founder & CTO at Scogo, with 15+ years of experience in technology. He specializes in scalable, cloud-native systems, infrastructure, SRE, DevOps, and data services. Karan has worked with renowned companies like IBM, Red Hat, CSC, and Wipro in roles such as Developer Evangelist, Solution Architect, and Software Developer. He is an accomplished author, frequent speaker, and active blogger at https://ksingh7.medium.com. Connect with Karan on LinkedIn at https://www.linkedin.com/in/karansingh7.