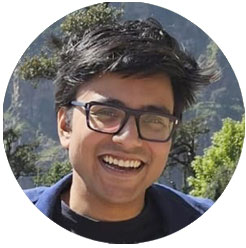 Software Engineer 2, | DELL
Managing a stateful application in K8s using Go Language and Helm.
Workshop covers:
Setting the K8s environment.
Developing k8s stateful application in Go
Lang Deploying code in k8s using Helm deployment manager
The audience will be the aspiring developers who are interested in next generation cloud native technologies.
19 Oct 2023 | Time: 11:30-02:00
Karan Singh, hailing from Kolkata, West Bengal, is a recent graduate with a master's degree in CSE from IIIT Delhi in July 2023. His academic pursuits have been marked by a strong emphasis on Machine Learning, Data Mining, and Information Retrieval.

During an internship at Dell Technologies, Karan expanded his skill set by mastering Golang and delving into the intricacies of Kubernetes and microservices. Over a span of six months, he diligently crafted various modules and microservices for Dell while collaborating with various Kubernetes resources.

Beyond his professional endeavors, Karan finds solace in the world of literature, particularly in the realm of fiction. He is an avid reader and also enjoys crafting short stories. Additionally, he possesses a flair for singing, having received formal Hindustani Classical Music training during his childhood. His love for cinema knows no bounds, and he often embarks on solitary journeys to nearby theaters, especially when the works of his favorite director, Wes Anderson, grace the big screen.

Karan is delighted at the prospect of sharing his extensive knowledge of Kubernetes and its resources with others. He believes that this knowledge will greatly enhance the journey of fellow developers, and he looks forward to contributing to their growth and success.