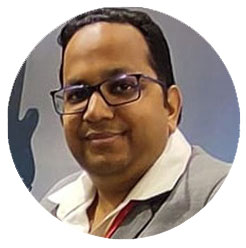 Leader, Security Test Engineering | Cisco Systems Inc
AI For Security & Security For AI
What AI can do in security industry and myths about AI in security domain. Can AI takeover security analysts Job or it just a hype. What all stuff a LLM can do what is it's limitation all these point I am going to cover in my tech-talk.
19 Oct 2023 | Time: 05:15-05:45
Ankit has 16 years of Industry experience which includes 12 years of extensive experience in Security domain. Ankit is working as a Leader, Security Test Engineering in Cloud & Compute BU of Cisco Systems, Inc. Ankit is a certified Cloud Security Professional from CSA, certified ISO27001 Lead auditor and an Ethical Hacker. Ankit has Experienced in end-to-end product security including Cloud Infrastructure, AppSec, SecOps, compliance like ISO 27001, SOC1. SOC2 etc. Ankit is a development contributor & reviewer of Zero Trust Certification exam governed by CSA global body. Ankit also contributed to defining Shared Security Responsibility Model for cloud governed by CSA global. Ankit has also contributed as an exam developer of certified in cyber security governed by ISC2 global. Ankit is also a bootcamp trainer, Security Tech-Talk speaker and provides security trainings to college graduates and post graduates students.