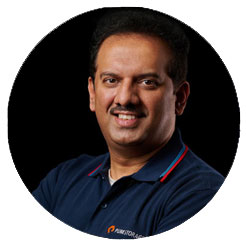 Vice President, Engineering and Managing Director, R&D, India, | Pure Storage India Private Limited
Green Data Storage in the Open Source World
In a world driven by AI and MLOps, and with the ever-increasing demand for managing data, the need for strong and scalable storage solutions is more critical than ever. Businesses, big and small, are always looking for better ways to manage their data efficiently, securely, and with a focus on energy-efficient "green" data centers. Open-source technologies have played a crucial role in shaping this landscape, promoting collaboration, transparency, and customization.
Takeaway – By deeply integrating Pure Storage platforms into the right open-source tools and leveraging the power of automation, orchestration, observability, and containerization, Pure has made data management simpler and more environmentally friendly for open-source users
19 Oct 2023 | Time: 12:45-01:00
Ajeya Motaganahalli is Pure Storage's VP FB Engineering and MD India R&D, and is leading the expansion of the company's R&D capabilities across India.
Ajeya is a well-regarded leader in the India engineering community with deep expertise in enterprise storage, having served in leadership roles at several other multinational technology companies. He joins Pure from Honeywell where he served as the Chief Technology Officer for their Safety and Productivity Solutions business in India.
Passionate about deep tech, building scalable products & solutions, and startups, Ajeya set up a global accelerator program for one his former companies and has helped build products for IoT in Healthcare, Deep learning for Vision Analytics, Warehouse Automation and Mobility.
Based in Bangalore, Ajeya holds a degree in management from the University of California, Berkeley, Haas School of Business.