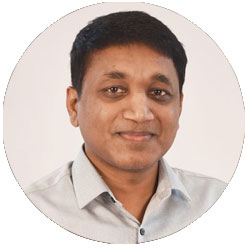 Director – Microsoft Technology Center | Microsoft Corporation India
Technology Innovations leading Digital Acceleration
29 Sep 2022 | Time: 10:00 to 10:45
As a Technology Leader at Microsoft, Sandeep Alur heads
'Microsoft Technology Center', an Experience Center focusing on
helping Customers accelerate their digital transformation journey.
Being a passionate techie, and an evangelist at heart, he loves
technologies that have a profound impact on human lives. A
'Thought Leader', a 'Trusted Adviser' and a meticulous implementer
on the ground, he believes that the next big leap is in 'Data Science',
and the power of 'AI' will elevate Customer Experience to greater
heights. Sandeep holds a Bachelor's degree in 'Mechanical
Engineering' from RVCE, and a Post Graduate degree in 'Data
Science and AI' from ISB, Hyderabad.