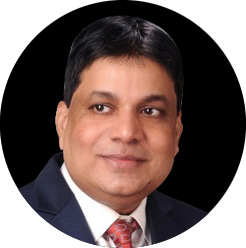 Head of Customer Solutions Management | Amazon Web Services
Devops: Weaving the Maze in Era of Digital Transformation
Market shifts are fundamentally changing the way businesses approach software driven innovation. Enterprises need to evolve to deliver the IT that Modern Businesses demands. DevOps is the DNA of this evolution. DevOps is becoming a cultural movement to address interconnected, interdependent and instrumented need for digital transformation. The session addresses Enterprise capability for continuous software delivery enabling organizations to seize market opportunities and reduce time-to-customer feedback. The session highlights how every aspect of software delivery will be driven from the principles of validated learning leveraging DevOps Maturity Framework, Reference Architecture and Opensource tools. The session additionally covers DevOps in action through customer adoption success stories.
29 Sep 2022 | Time: 12:45 to 13:15
Dr. Biswajit Mohapatra is Head of Customer Solutions Management, India at Amazon Web Services. Biswajit is alumnus of IIT Mumbai and Ex-IBM Executive. He is a thought leader in digital transformation with excellence in Strategy Consulting, CXO Engagement, Complex Program Management, Practice Development, Technology Innovation and Building Inspired Teams. Biswajit is recognized as Most Admired Global Indian 2021 and received 20+ CIO Awards. Biswajit loves creating compelling customer value propositions leveraging Cloud, Data, Security, Blockchain, AI/ML and Cognitive Automation. Biswajit is Advisor to Asian African Chamber of Commerce and Industry, Board Member International Institute of Business Analysis Pune Chapter, Member Board of Studies at Symbiosis University and DevOps Institute Global Ambassador. Biswajit has 3 patents on Cloud Technology, 10+ publications on Digital Transformation and regular speaker in national and international conferences on nextgen technologies.